UCAT, in other words, means University Clinical Aptitude Test. Most of the universities in Australia and New Zealand consider UCAT as one of the criteria for selecting students in health-related fields such as dentistry and medicine.
The UCAT is a two-hour test. It is a computer-based test. You may have confusion about how is the UCAT scored? It assesses students on certain factors. These factors have been marked important by the universities to pick students for fields such as medicine and dentistry. This two-hour test consists of five subtests that are separately timed. Each test contains multiple-choice questions to check the mental abilities of the individual.
UCAT has gained prominence over time and has become a standardized method to pick students for admission due to the rising demand for medicine, dentistry and other science-related courses. UCAT was designed to assess the abilities of students in different categories namely problem solving, empathy, abstract reasoning skills etc. These categories are preferable in a health professional, hence they were singled out by the developers of the test to assess the students. Many universities adopt an interview method to choose students for dentistry and medicine.
UCAT replaced UMAT for several reasons mentioned as follows:
Universities wanted to add new categories for assessment of a candidate's abilities.

Computer-based nature of the test ensures that results are out immediately without any hassles.

Tests can be conducted at several places on different occasions. Authorities don't have to concern themselves with conducting tests on a similar day for all the students.
What is the UCAT test format
Before deciding whether you should write the test or not, you should be aware of the UCAT test format. UCAT consists of 223 questions in total, These questions are compartmentalized among subsets in the following manner:
Verbal Reasoning: 44 questions.
Decision Making: 29 questions.
Quantitative Reasoning: 36 questions.
Abstract Reasoning: 55 Questions.
Situational Judgement: 69 questions.
The UCAT is a two-hour-long test. You will get 5 minutes for instructions and one minute before the commencement of each subset.
If you want to register for UCAT, you will have to visit the Pearson VUE website. It is a two-step process where you have to use the Pearson VUE online registration system to register yourself and then for booking the test.
Each of the first four subtests is marked on a scale between 300-900, with a total range between 1200-3600. The majority of students who take the test score something between 500 to 700 in each section. Their average score rounds up to 660 per section.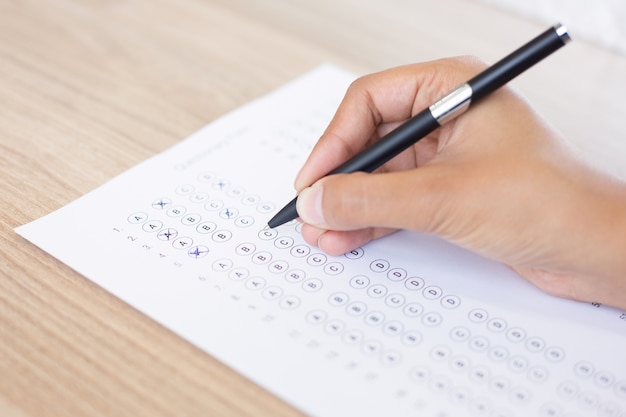 How is the UCAT Scored on Different Sections
If you are wondering about how is the UCAT scored, marking system of the different sections has been explained below:
In the Verbal, Quantitative and Abstract Reasoning sections, each question carries one mark. In the Decision Making section, questions, where only one answer is correct, are worth one mark whereas questions with multiple correct answers are worth up to two marks. In multiple-choice questions, if you give a partially correct response, you will get one mark and for a fully correct response, you will get two marks. There is no negative marking for an incorrect response.
The marking system of Situational Judgement is different from other sections. You will get full marks for a correct answer and partial marks for a nearly correct answer. You will be given a scaled score for the Situational Judgement section. Because Situational Judgement test measures non-cognitive attributes, universities consider it differently for cognitive subtests.
UCAT Preparation at Sage Education Services
Preparation for UCAT can be a daunting task. Our team at Sage Education Services is there to guide you through. We provide practice tests, classroom training and personalized attention. Benefits of joining us for UCAT preparation are as follows:
We understand the important role UCAT plays in your life. This test is more important than your year 12 scoring to determine your chances of getting selected for medicine. Even if you end up achieving a perfect ATAR of 99.95, no one can guarantee you a seat for medicine in all the universities. Some universities do not take your year 12 scoring into consideration. They only consider UCAT primarily to decide whether or not you will be selected for interview rounds. We will prepare a plan to help you in realizing your target. We will guide you at every step and provide you with a weekly review to assess your performance.

We will get you acquainted with different UCAT type questions. It will help you in understanding the kind of questions you will face in the UCAT test. UCAT does not test your wealth of knowledge rather general skills. Hence, questions you attempt in UCAT will be nothing like what you see in school and university.

Every question requires a different approach. You will learn to adopt different approaches only with time and practice. We will provide you with practice tests regularly which will help you in tackling difficult and tricky questions with ease and accuracy.

It will be best if you write full-length practice tests under timed conditions. It will help you in familiarizing yourself with the test. You will be able to perform flawlessly under extreme times pressures. Human beings have a short attention span and it becomes difficult to concentrate on tests for two hours straight. If you practice well under timed conditions, you will be able to concentrate for two hours straight without any distractions. We will ensure that you write full-length practice tests. We will analyze your score and performance, help you in identifying your mistakes and devise methods to improve your performance. If we skip the analysis part, solving these practice tests will serve no purpose. You will keep on repeating the same mistakes. Keeping a record of all your test scores will help us in evaluating your performance.

Once we are done with analysis, we will learn about your strengths and weaknesses. By paying more attention to your weak areas, we will provide you with more questions from that particular area. In no case, we will allow you to skip or stop solving questions that you are good at. If you stop practising them, you will lose your stronghold over these areas.
Still have a confusion on how is the UCAT scored and what is the test format? Let us come and visit Sage education services. We at Sage, not only prepare students for exams but help them in academic and university admission consulting related queries. Our expert's design courses that are unique, tailored to suit the needs of the students. Register with us and start the preparation journey for UCAT.